Karma police, arrest this girl, her Hitler hairdo, is making me feel ill
And we have crashed her party
This is what you get, this is what you get
This is what you get, when you mess with us
Radiohead, Karma police
For reasons that may (or may not) become clear, the Daily Mail made me think of these lyrics today. As it has done through the years, thankfully a mite more critically this time, the paper has done a piece on the fascist du jour Richard "Dick" Barnbrook. The main revelation which I did not know was that he is in the final stages of divorcing a woman he met during his "Derek Jarman gay porn" years. Not terribly impressed with his politics, she says:
"In a way, I wanted to join the police to redress the karmic imbalance in the world caused by my husband's views."
Barnbrook has also been in the News of the World this week for two-timing his ballerina fiance with a nurse from Finland. I have to admit I am rather disappointed that NotW failed to use the headlines "a kick in the Balkans" or "Finns ain't what they used to be".
Possibly the most disappointing thing about the state of British fascism (apart from, of course, the fact that they are racist, violent thugs who are improbably gaining electoral support at the moment), is their sartorial inelegance. Oswald Mosley may have dressed his blackshirts up like Doctor Who villains, but at least they knew what a fucking iron was.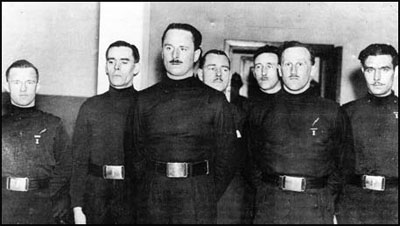 One thing you can say about Barnbrook is that with his brown suit and already suggestive fringe, at least he makes it easy for people to caricature him.
Frankly though, I prefer these fellers.