At some point this week I may have a rant about Sandra Gidley's extraordinary (and frankly ridiculous) co-option by LighterLife, a company which last month was caught out "conning" MPs (their words) by running a dummy charity (which has now, curiously, wound itself up).
But first, it is my duty to inform you, dear reader, that another Lib Dem MP has been caught promoting a product. Ann Widdecombe's pasta peddling has nothing on this.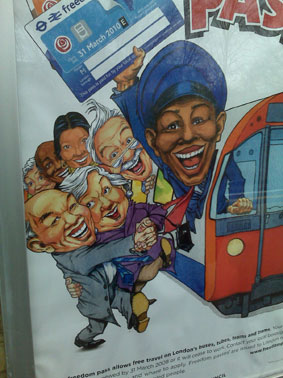 Yes, spotted at my local tube station, one Vince Cable can quite clearly be seen flogging unsuspecting old people Freedom Passes on a bizarre advert that looks like a seventies cross between On the Buses and Pigeon Street.
Well, okay, it's an illustration, but it's clearly Vince. Not only are his trademark bonce and eyebrows clearly on display, but the man is ballroom dancing.
Michael Martin may be palming off air miles, but this guy is giving millions of grannies free travel – at taxpayers expense! Why this isn't on the front page of every national newspaper is beyond me.
How the mighty have fallen.
UPDATE: Being called McCarthyite for suggesting that the SWP might possibly be communists is one thing, but now as a result of this blog post I'm being accused of sadism! Boy, people take this blog way too seriously.