For the millionth time I've read this reported as fact:
The new Lisbon Treaty is largely the same as the defeated constitution…
So, for all those hard of thinking journalists out there and everyone else for that matter who seems to misunderstand it, I thought I'd draw you a handy diagram: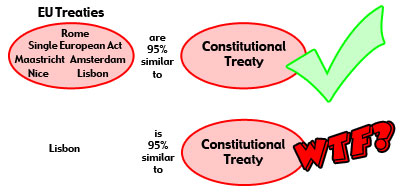 You can say that the addition of Lisbon means that the combined treaties are roughly equivalent to the stalled constitutional treaty. You cannot say that Lisbon itself is roughly equivalent to the stalled constitutional treaty. To claim otherwise it to be a fool.
Let's put it another way: an iced cake with "Happy Birthday" written on it is roughly the same thing as an iced cake with "Happy Christmas" written on it. If you claimed that the icing itself was more or less the same thing as the whole cake, you could reasonably expect to be put into a rubber room.
I know this is the height of pedantry, but it is an important distinction and anyone who contests it loses the moral right to call other people "dishonest".
What I find most amazing about all this is the way the Eurosceptics have, in effect, ceded the argument over all the other treaties which, in the past, they insisted (with the same level of shoutiness as now) were about to "abolish" Britain. Equally amazing is the fact that, four years ago there was a real opportunity to effectively renegotiate those past treaties via the constitutional process. The shadowy forces behind iwantareferendum and the combined Murdoch, Rothermere and (then) Black press could have insisted on a public debate and a more open process from the government. They did no such thing. Even if you agree that treaties like this should be ratified by referendum – as I do – don't for a second kid yourself that these people have our best interests at heart.