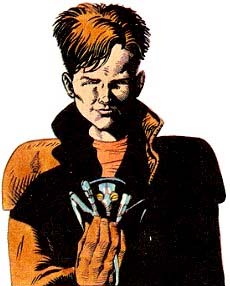 Philip Janet Maybe has gone from being a minor perp in a six page short story to Dredd's own Moriarty. In Bug (prog 534, 1987), drawn by rising star Liam Sharp, Maybe is a psychopathic 12 year old who is quite a dab hand in robotics and pharmacology. As an experiment, he uses his burgeoning skills in both to kill a couple of his neighbours and writes the whole incident up in his diary (very badly). He's pretty much continued in that vein ever since.
The early P. J. Maybe stories are in many ways both a distillation and a departure from a series of stories that Wagner and Grant had written prior to that. Superficially it was just a darker version of the "ordinary citizen with big ambitions in a crazy world" theme, typified by Un-American Graffiti (progs 206-207, 1981), Citizen Snork (progs 356-358, 1984) and The Magnificent Obsession (440-441, 1985). One of the main themes of Dredd in the mid-80s (and indeed the mid-80s themselves) was the "crazes" which seized the bored, mostly unemployed citizenry of Mega City One. Typically these stories ended up with someone taking the idea too far and getting the whole craze banned. P. J. Maybe simply swapped the funny costumes for cold-blooded murder. And, for the most part, gets away with it.
Maybe's killing spree continues for a few stories, with him managing to use his murderous talents to get his unknowing father to become head of the company he worked for, Emphatically Yess – a clothing company which, among other things, has a contract to make the trousers for the judges themselves (in the future apparently, Americans call their pants trousers – a victory for British cultural imperialism!). He gets caught, escapes during Necropolis, and gets caught again.
By that point, the P. J. Maybe stories had started to get a bit repetitive and so for the next seven years he languished in a isolation cell somewhere. But he returned for The All New Adventures of P. J. Maybe (prog 1204, 2000) and has been a major recurring character ever since.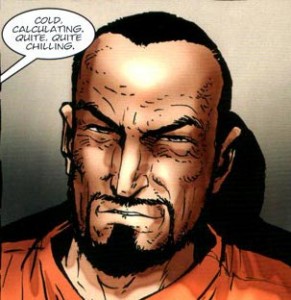 Now an adult, the second coming of P. J. Maybe is somewhat more ambitious than the first. Maybe first escapes to Ciudad Barranquilla, the Central American counterpart of Mega City One, having successfully managed to fake his own death. When Dredd starts to track him down once again, he again manages to fake his own death, this time moving back to Mega City One. Having adopted the identity of Byron Ambrose, he gets embroiled in city politics – first getting elected as a councillor and eventually becoming mayor. John Wagner is clearly making a point about the nature of democracy when he makes a psychopathic killer one of the most successful mayors in Mega City One's history .
Even as mayor, Maybe continues his killing spree. Eventually he comes unstuck during the Tour of Duty storyline (progs 1650-1693, 2009-2010). Enraged by spending cuts imposed by the new Chief Judge Sinfield, Maybe sets himself the task of killing him. He very nearly does so, despite the tight security, but is eventually caught. However, his actions prove instrumental in bringing down Sinfield himself who had used SLD-88, a mind control drug devised by Maybe himself, to control and cause the resignation of Chief Judge Francisco.
Maybe is scheduled for execution but, once again, escapes. He has since kept a fairly low profile but was last seen capturing the Dark Judges Fear, Fire and Mortis. It remains to be seen how this clash of Dredd's greatest foes will turn out.
In many ways however, P. J. Maybe is everything the Dark Judges aren't. Whereas the Dark Judges are superpowered creatures who go on killing sprees wherever possible, Maybe is a mortal who, while he likes killing, has a very strong sense of his own self-preservation. The latter, frankly, leads to somewhat more interesting stories.
Maybe has also provided the series with a lot of light relief in recent years, as the tone has generally got darker. He is however, at risk of being over-used. Notwithstanding his inevitable role in an upcoming Dark Judges story soon, with the Mayor Ambrose story arc now finished I do hope they'll give him a rest soon.
Highlights include…
Bug (prog 534, 1987), PJ Maybe, Age 13 (progs 592-594, 1988), The Further Adventures of PJ Maybe, Age 14 (prog 599, 1988) and The Confeshuns of PJ Maybe (progs 632-634, 1989).
The Monsterus Mashinashuns of P.J. Maybe (Judge Dredd Megazine issues 231-234, 2005).
The Gingerbread Man (Judge Dredd Megazine issues 261-263, 2007).
Tour of Duty (progs 1650-1693, 2009-2010)
M is also for…
Maria
Many of the early Judge Dredd stories tended to focus around his domestic life. This was populated by his robo-servant Walter the Wobot and his housekeeper Maria.
Maria was a caricature of an Italian housewife who would frequently acted as a foil to Walter. The joke, ahem, wore a little thin after a while. Both characters were pretty much written out of the series in the Destiny's Angels story (progs 281-288, 1982), with Maria resigning after being abducted by Fink Angel (who assumed she was Dredd's wife).
Maria's last appearance was in Cardboard City (progs 643-645, 1989), in which Dredd discovers she has been homeless yet refuses his offers of help. She has since died (Whatever Happened to Maria, JDM 215, 2004)
Mean Machine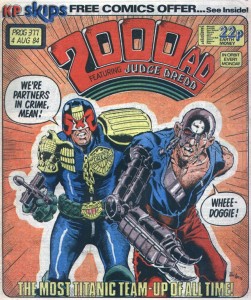 Although I've already covered the Angel Gang, Mean Machine deserves a special mention. Absurdly popular (despite, in my opinion Pa and Junior being the more compellingly written characters), Mean originally died in The Judge Child (progs 156-181, 1980) but was brought back to life in Destiny's Angel (progs 281-288, 1982) and has made numerous appearances since. He has even been given his own spin-off series and, alongside Judge Death, appeared in the first Batman/Judge Dredd crossover, Judgement on Gotham (1991).
I have to admit to finding the character somewhat one-note. Essentially he is a rather crudely built cyborg who headbutts people a lot and has a dial on his head to determine how angry he gets. This has lead two a handful of memorable appearances, such as Dredd Angel, but the character was somewhat overused in the 90s and outstayed its welcome. His fabulous portrayal in the Judge Dredd motion picture (1995) was however one of that film's few highlights.
Mechanismo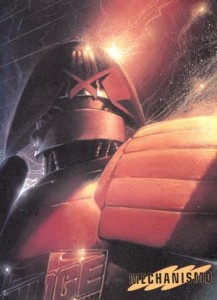 A series of stories which appeared in the Judge Dredd Megazine (Mechanismo, JDM 2.12-2.17, Mechanismo Returns, JDM 2.22-2.26, Mechanismo: Body Count, 2.37-2.43; 1992-1993) which lead up to the Wilderlands story (progs 891-894 & 904-918, JDM 2.57-68; 1994), in which the increasingly erratic Chief Judge McGruder enforces a policy to put robot judges on the streets. Dredd is strongly against this policy (despite the robots all being programmed to act like him) but is overruled. Predictably, Dredd is ultimately proven to be correct – but not before a handful of robots run amok.
Clearly more than a passing nod to Robocop and the way it quite blatantly borrowed ideas from the Dredd strip it did, in turn, borrow some scenes that are quite reminiscent of the ED-209s.
Mills and McMahon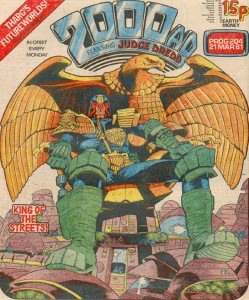 I've written in a few places that while John Wagner and Carlos Ezquerra are rightly credited as Dredd's creators, the input of editor Pat Mills and the first major artist Mick McMahon can be under-estimated.
So many of Pat Mills' original ideas have ended up becoming a core part of Dredd lore. In particular, establishing that Dredd was clone, and his brother Rico, were both first addressed in Mills' Return of Rico (prog 30, 1977). He also wrote the first draft of Dredd's history in the form of the Cursed Earth (progs 61-85, 1978). Inspired by Carlos Ezquerra's wild costume ideas and city scapes, it was Mills who pushed to expand the scope of the series, arguably making the some of the ideas contained within it rather unmanageable in the process.
Mick McMahon's influence was in taking Ezquerra's flamboyant designs and to interpret them in such a way that felt more hardcore and grounded in reality. The Dredd costume we are now familiar with – in particular the big boots – is really a reinterpretation of McMahon's which he first began to develop during the Luna 1 arc (progs 42-59, 1977-1978). His work from around the start of the Judge Child to Block Mania (1980-1981) is probably the best, and certainly the most startlingly original, art which has ever appeared in 2000AD. Ironically for an artist who was originally drafted because of his ability to duplicate Ezquerra's style, he is arguably the most copied of Dredd's artists.
Many people do not appreciate the extent of McMahon's genius, dismissing his style as sketchy and cartoonish. and it is certainly true that his work in recent years has become somewhat more idiosyncratic and hard to love. But in many ways to understand and love Judge Dredd is to understand and love McMahon's art.