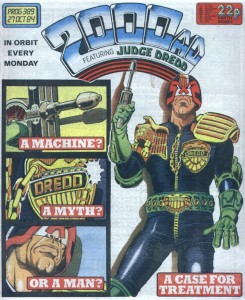 The vast majority of Dredd strips throughout the 80s were basically comedy. Even the Apocalypse War was laced with irony and satire. Just occasionally a story touched on more serious themes. One of these was the six page A Question of Judgement (prog 387, 1984).
A Question of Judgement was in fact the first of three short, consecutive vignettes, the other two of which were An Error of Judgement (prog 388) and A Case for Treatment (prog 389). Combined, these stories threatened to rock the strip to its foundations, only for the themes contained within them to crawl back into their shells and not reappear for years afterwards.
All three stories have one thing at the heart of them: Dredd is having doubts about whether the judicial system is really in the people's best interests. In A Question of Judgement, Dredd meets up with Judge Morphy, the judge who assessed him for his suitability for becoming a full judge after his graduation from the Academy of Law. Morphy is presented as a mentor figure for Dredd and Morph's advice to Dredd is simple: wear tighter boots. His reasoning is that if Dredd were to spend all his time suffering from the effects of wearing boots a size too small, he would have less time to worry about whether he was actually achieving anything (as bad advice goes, this must rank pretty highly – how could Dredd be expected to do his job properly hobbling about in pain?).
In An Error of Judgement, Dredd gets emotionally involved in a welfare case, but his assistance goes awry and he ends ups assaulting a fellow judge. This leads directly into A Case For Treatment, in which Dredd is forced by the Chief Judge to undergo hypnotherapy in an attempt to get to the root of his doubts. It ends inconclusively, with the Chief Judge deciding to give Dredd a special mission to get his mind back on the job, as recounted in The City of the Damned (progs 393-406, 1984-1985).
That was all we got to see of Dredd's doubts for many years. In retrospect it is clear that this was a side of Dredd that John Wagner was keen to explore while Alan Grant was keen to focus on the satirical elements of the strip. So it was not until their writing partnership came to an end that this plot thread was picked up again, in the Tale of the Dead Man (progs 662-668, 1990), which in turn lead to the Necropolis saga.
In this story arc, Dredd's doubts lead him to taking self imposed exile in the Cursed Earth only for him to return to save the city upon discovering that the Dark Judges have returned. Merging with the democracy arc, this plot line reaches a modicum of conclusion with the referendum storyline.
The Dredd who returns from the Cursed Earth however is a subtly different character (at least the way Wagner writes him). He is more thoughtful and significantly more forceful when he feels the judges are doing the wrong thing. This gets him into trouble during the Mechanismo/Wilderlands story arc. His dealing with Edgar, a judge he admires but whose methods he disapproves of, is also typified by this, as is his support for both Volt and Hershey as modestly reforming Chief Judges.
Every so often we would also get a story which reveals the softer side of his character, such as the fan-favourite Bury My Knee at Wounded Heart (Megazine 2.46, February 1994) which deals with some very unDreddful themes such as old age and dying with dignity.
These aren't stories about Dredd wracked with guilt however; the Dredd in these stories is demonstrates very little in the way of internal conflict or self-doubt. Rather, they are about the nature of justice from the perspective of a man who has revised his views considerably.
This theme continues into Origins (progs 1505-1519 & 1529-1535, 2006-2007) and the revelation that Fargo himself had concluded that the judicial system he had created was flawed. In turn this leads to Dredd revising his views on the anti-mutant laws and the events covered by the Tour of Duty story arc.
In conclusion then, while A Question of Judgement and its immediate successors are not in themselves enormously successful stories, they sewed the seeds for the sort of development which has gone on to dominate the series for the past 23 years. There is a tendency to focus on the sprawling epics which percolate the Dredd series, but sometimes the odd six-pagers can be equally significant.