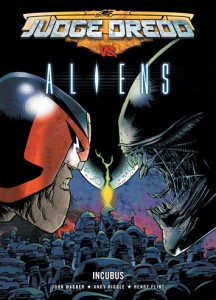 For a while in comics, it looked as if pretty much every character going was battling with Aliens and Predators. While there were some notable successful crossovers – the first Batman vs Predator springs to mind – the vast majority were just formulaic trash. I was shocked to discover a few months ago that I had apparently bought and red Aliens vs Predator vs Terminator, a mini-series so utterly forgettable that I could not recall a thing about it.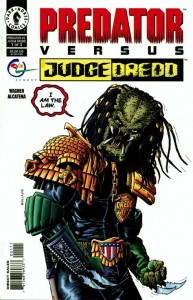 Dredd's first foray with one of 20th Century Fox's ugly buglies was actually in 1997 when he went up against the Predator (Predator vs Judge Dredd, Megazine 3.36–38). A relatively pedestrian tale let down further by weak art, it notably replaced Anderson with Judge Shaefer, a descendent of Arnold Schwarzenegger's Dutch in the original Predator film. It was clear that Dark Horse Comics were calling all the shots and John Wagner's heart wasn't really in it.
So things did not look augur well for the Judge Dredd vs Aliens tale, which appeared in 2003. It is all the more remarkable therefore that Incubus (Prog 2003 and progs 1322-1335, 2003) is in fact a pretty decent story.
There are probably two reasons why Dredd's foray with Aliens was happier (if happy is the right word) than his tussle with Predator. The first is down to publisher. In 1997, 2000AD was still owned by Egmont Fleetway who were essentially running 2000AD down with a view to cancelling it as soon as it became unprofitable, forecast to occur in 2001. By 2003, 2000AD had been bought by Rebellion Developments who not only valued the comic far more highly but had some actual clout with 20th Century Fox after producing two well received Aliens vs Predator computer games.
The second reason for its strength is probably down to co-writer Andy Diggle.
Andy Diggle probably deserved an entry of his own (alas, D is now done and dusted). He and David Bishop are largely responsible for turning 2000AD around in the late 90s in the face of considerable opposition in the form of Egmont Fleetway. They played an instrumental role in negotiating the deal in which 2000AD was sold to Rebellion (you can read David Bishop's account in his excellent history of 2000AD Thrill-Power Overload).
Diggle himself is a slightly controversial figure. As editor after David Bishop departed, he undoubtedly "got" 2000AD, as his famous (among 2000AD fans anyway), "Shot glass of rocket fuel" memo demonstrated. At the same time, there is little to doubt that the quality of 2000AD dipped somewhat under his tenure. He also had some rather public falling outs with a number of 2000AD's key creators – most notably Pat Mills.
In the end, Diggle's tenure as "Tharg" (the fictional editor of 2000AD and something of an honorific) was rather short. He has since gone on to be a far greater writer than he ever was an editor, including as the writer of The Losers, which went on to become a film in 2010.
It is clear that a lot of deft merging of the conventions of the Aliens franchise with past Dredd continuity is down to Diggle. Like the best crossovers, it works by honouring both series without resorting to shoehorning in anything too blatant: there is no Cadet Judge Ripley, for instance. It won't go down in history as the greatest of literature, but as fun, action packed stories go, it sets a fairly high standard.
Of course, after 35 years of publication, neither of the official crossovers mark the first time Dredd has encountered any familiar looking aliens. We can discount Trapper Hag as a Predator stand in as, regardless of the similarities, he appeared in 1983, four years before the Schwarzenegger film (Trapper Hag, progs 305-307, 1983).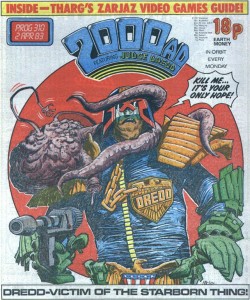 The best undeniable homage to Alien in the Dredd strip was the Starborn Thing (progs 309-314, 1983). In this story, Dredd is required to investigate a spaceship crash in the Cursed Earth. He encounters a squat creature covered in tentacles which proceeds to take control of his body. Dredd eventually defeats it only to discover it has impregnated him with its young. The story resulted in one of the most iconic 2000AD covers, drawn by Mick McMahon.
The other notable rip-off is Raptaur, a sort of amalgam of Alien and Predator, which appeared in an eponymous tale by Alan Grant and Dean Ormston in 1991 (Raptaur, Judge Dredd Megazine 1.11-1.17, 1991). Sadly all this iteration seemed to do is run around and eat people – it wasn't half as fun as the Starborn Thing – but the creature has since reappeared in spin-off series The Simping Detective.
Highlights include:
The Starborn Thing (progs 309-314, 1983)
Incubus (Prog 2003 and progs 1322-1335, 2003)
I is also for…
Insurrection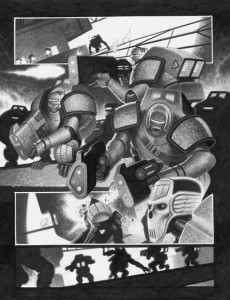 Insurrection is a spin-off series which has thus far had two runs in the Judge Dredd Megazine (279-284 and 305-310). It concerns a group of renegade judges and their allies – a motley crue of intelligent apes and autonomous robots – who are under attack from Mega City 1 for declaring independence.
While set squarely in Dredd's world, the series has very clear Warhammer 40,000 influences – indeed both writer Dan Abnett and artist Colin MacNeil are Warhammer mainstays. It is one of the most popular spin off series to appear in the Megazine in recent years.