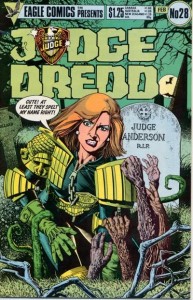 Psi-Judge Anderson is probably the most popular Judge other than Dredd himself amongst the fan base. Anderson is a telepath and can read minds, read psychic impressions from inanimate objects and gets "psi-flashes" of things happening nearby (a souped-up form of clairvoyance).
She originally appeared in Judge Death (progs 149-151, 1980), which was also the first appearance of Psi-Division itself (which, as the name suggests, is a division of the Justice Department which trains and utilises judges with psychic powers). In accordance with the throwaway nature of the strip in its early days, Anderson's first appearance could quite easily have been her last, as she sacrifices her life at the end of the story by allowing Judge Death to possess her and for her body to be encased in the airtight, rubber-like substance Boing®. Anderson and Death however both proved to be highly popular and both returned in Judge Death Lives! (progs 224-228, 1981) 18 months later. That creator Brian Bolland drew her as Debbie Harry in tight leather may have been at least a part of her appeal.
Anderson would go on to become a core member of the Judge Dredd supporting cast. She was rewarded with her own spin-off series, originally due to be published in the abortive Judge Dredd Weekly. This strip eventually wound up in 2000AD itself and, again, featured Judge Death and his Dark Judge cronies. Since breaking out in her own series, Anderson has only occasionally appeared in the Dredd strip itself, most notably playing a key role in the epics Necropolis (also featuring the Dark Judges) and Doomsday. She has not featured in the Dredd strip in a significant way in the last 12 years.
While technically of lower rank than Dredd, Anderson has never really played the sort of sidekick role which characters like Judge Giant and Judge Beeny do. She has always been portrayed much more as Dredd's equal, even occasionally his friend (albeit never entirely convincingly).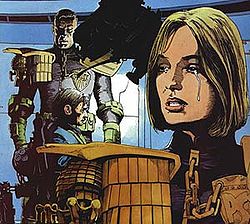 She has undergone several personality changes over the years. In the early days, Anderson was portrayed as a rather sassy, wisecracking persona, which contrasted well against the often dark themes in her stories. As the 80s drew on, and 2000AD got caught up in the post-Watchmen (and particularly in this case post-Halo Jones), "WAM! POW! Comics Grow Up" mindset, the Anderson strip got serious. Initially, this worked quite well but then-writer Alan Grant, not known for his subtlety, started making the series increasingly issue-focused and bleeding-heart in tone. The strip started to focus on the dark side of the Judicial system (which in Alan Grant's hands was no more and no less fascism). Anderson got retrofitted as a victim of child abuse and gained a rival going by the incredibly literal name of Judge Goon.
What was no doubt meant as well meaning eventually lead to the character becoming little more than a weeping, passive victim in her own series. The strip's low points were Postcards from the Edge (Judge Dredd Megazine vol 2, issues 50-60, 1994), in which Anderson travels around the galaxy having resigned from the Justice Department, and Crusade (Progs 1050–1061, 1997), in which Mega-City 1's children all revolt and are nuked by the Chief Judge (an incident which the writers of both Dredd and Anderson have since conveniently forgotten). Since then, the strip has recovered somewhat and Anderson herself has reverted to being a somewhat older, and wiser version of the original inception (note that since Judge Dredd and its spin-off strips work in real time, Anderson herself is now well into her mid-50s, even if she doesn't look a day over 30).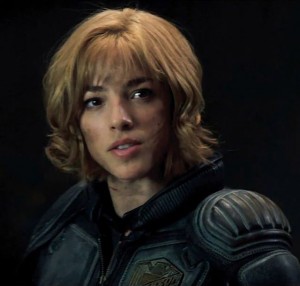 Anderson features heavily in the upcoming feature film Dredd 3D, played by Olivia Thirlby.
Highlights:
Judge Dredd: Judge Death (progs 149-151, 1980) and Judge Death Lives! (progs 224-228, 1981). Reprinted in the Judge Dredd Complete Case Files Volume 3 and 5.
Judge Dredd: City of the Damned (progs 393–406, 1984). Reprinted in the Judge Dredd Complete Case Files Volume 8.
Anderson, Psi Division: The Possessed (progs 468–478, 1986). Reprinted in the Judge Anderson Psi Volume 1.
Anderson, Psi Division: Triad (progs 635–644, 1989). Reprinted in the Judge Anderson Psi Volume 1.
A is also for…
Angel Gang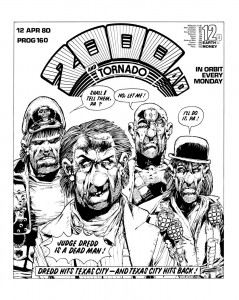 A criminal family of rednecks – Pa, Link, Mean Machine and Junior – who kidnap the Judge Child and are eventually executed by Dredd at the conclusion of the Judge Child saga (progs 156-181, 1980). It turns out they have a long lost brother, Fink, and the most popular member of the gang and Mean Machine (the one with the dial on his head) is brought back from the dead. Both Pa and Junior Angel also end up getting resurrected, but John Wagner appears to have concluded that was a mistake and they haven't appeared in the strip for many years.
The Angel Gang appear in the motion picture Judge Dredd (1995). It's portrayal of Mean Machine is widely considered one of the best things about it.
America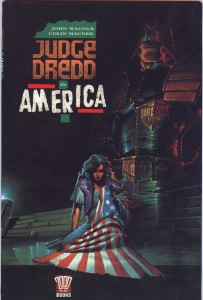 Regarded by many as one of the best Judge Dredd strips, America (Judge Dredd Megazine vol 1, 1-7, 1990) is the tale of America Jara, the daughter of immigrants who goes on to get involved in the Democratic Movement, a campaign to restore democracy to Mega City 1. Disillusioned by how the Justice Department crush the movement, Jara gets involved in the terrorist organisation Total War. To cut a long story short, she is killed but her body is saved by her childhood friend Bennet Beeny who, um, has his brain transplanted into it (the story is better than this sounds, I can assure you!).
The story had two sequels, in the first of which it is revealed that Beeny also conceived a daughter (his sperm, her eggs). America Beeny goes on to become one of Dredd's most trusted colleagues.