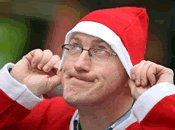 Another day, another opportunity for Lembit to exercise his right to reply. Not much to add today, so I thought I'd just provide a little light entertainment:
The questions in question, of course, are:
a) Since Lembit claims to have such great campaigning and communications skills, why have the Liberal Democrats in Wales stagnated in the last two assembly elections (sticking with six AMs in 1999, 2003 and 2007)?

b) Given the deep problems at the heart of the Kennedy leadership, wasn't it an error of judgment to stand by him? Loyalty is easy – a nodding dog at the back of a car can do it. Don't the "rebels" – including Nick Clegg and Vince Cable – deserve credit for taking a difficult decision that Lembit lacked the resolve to take?

c) Why didn't Lembit stand against Simon Hughes in 2006? Hughes presided over a string of failures, most notoriously watching the party's membership fall by 10,000 members despite having pledged to treble the membership in two years. Again, doesn't that suggest a lack of resolve?

d) Why wasn't Lembit's campaign ready in Bournemouth? Frankly, it was a total mess. Ros Scott launched her campaign exactly 12 months before, so it isn't as if Lembit didn't know she was serious. Is this the level of professionalism we can expect from him? Don't actions speak louder than words?
* As featured on MoreFourNews.