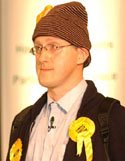 More Lembit news today, but none of it is very good.
First of all, the Western Mail reports that senior Welsh Lib Dem politicians are "snubbing" Lembit in favour of a "little-known candidate from England" (which is apparently a small place somewhere east of the Marches). Yet Lembit is apparently still standing, stating that:
"Party members can vote for whichever candidate they like. It's called democracy and I support that. Ros Scott may have some supporters in Wales, but I have lots of people backing me in England.

"I believe I am the right person to become president. I am already the senior vice-president and chair meetings of the executive, of which I have been a member for 17 years.

"If people want a president with experience and determination who is inspirational, I believe they should vote for me.

"I travel round Britain to see members of the party all the time, which is why my car has 380,000 miles on the clock.

…

"I am standing in this election not on what I say I will do in the future, but on the record of what I have been doing in the party and will continue to do."
But in a sign that he is a little irked about his lack of support, how's this for a pout?
"I have done all the training for candidates within the party since 1990. I remember Kirsty Williams coming to a course I ran in the mid-1990s in the early stages of her career.

"I'm sure she is grateful for the help I gave her."
Ouch. I'm sure she feels suitably put in her place now. Bloody girls.
Meanwhile, it appears that it isn't just the Welsh who are less than sympathetic to Lembit's cause. For the second month in a row he has come bottom of Lib Dem Voice's Members' Poll on the Shadow Cabinet:
Sarah Teather -14.6%
Roger Williams -14.6%
Michael Moore -20.8%
Nick Harvey -23.9%
Lembit Opik -35.4%