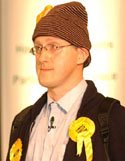 Spooky. I wrote this post earlier but it disappeared.
For those of you beginning to despair that there is nothing to write about Lembit Opik other than his obsession with odd looking bicycles – rejoice! Lembit's campaign for President may still be failing to launch (despite the fact that Kirsty Williams is about to launch her campaign months before her election is due to take place), but at least we may now have an explanation.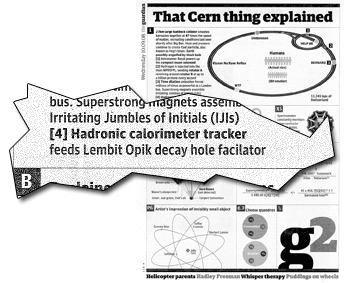 Eagle eyed readers of the Guardian this morning have pointed out that in their handy guide to the Large Hadron Collider at Cern, one of the vital components is called a "Lembit Opik decay hole facilitator." Even more intriguingly, operating the LHC appears to be dependent of a "mouth harp" and "kazoo." Lembit is of course a dab hand with such instruments (it is a little known fact that Lembit performed the harmonica solo in Culture Club's Karma Chameleon).
So, clearly Lembit has had other more important things to worry about than mere internal elections for Federal Party President. And can I just say that, given the possibility that the LHC might wipe out a major section of this quadrants of the galaxy, I can't think of a single person I would rather trust with its operation?