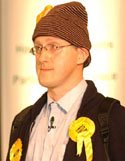 Today is the day of the great Segway protest.
Risking his personal freedom to take a stand on this vital issue of civil liberties, Lembit and a couple of Tories drove a couple of hundred yards on a two wheeled scooter, which a typically understated Lembit described as "the biggest step forward in transportation since the Wright brothers." He forgot to mention that none of the Wright brothers' inventions have ever been allowed on Britain's roads either.
The stunt has generated Lembit, and thus the party, a massive amount of publicity. Londonist states "We salute Mr. Opik for bringing this urgent issue to the attention of our government," while Kerron Cross says of Lembit's desire to get arrested: "I, for one, hope that Her Majesty's finest don't disappoint dear old Lemsip." Yes, the level of support and goodwill this protest has generated is tangible.