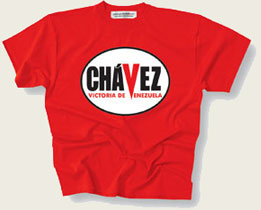 Given that Martin Bright has made a very high profile attack on Ken Livingstone this week for, among other things, his links with Hugo Chavez, I have to say I find it very amusing that the magazine of which he is Political Editor, the New Statesman, is currently offering this to all new subscribers:
Pay just £14.99 UK (£26.00 Europe, £32.00 World) for 12 issues of the New Statesman and receive this special edition T-shirt worth £20.99 absolutely free. In addition New Statesman will donate £1 to Venezuela Information Centre UK.
Don't worry if you aren't sure about the ethics of all this however; as an alternative you can always get a book on Fidel Castro instead. They cover the whole broad range of left opinion, they do.